Anthony Bailey Consulting hosts luncheon in honour of President Andrej Kiska of the Slovak Republic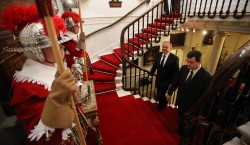 London, 23 June 2015. Anthony Bailey, Chairman of Anthony Bailey Consulting hosted a luncheon in honour of the President of Slovak Republic, His Excellency Mr Andrej Kiska at the historic Armourers' Hall in London. The event was held to celebrate of the growing importance of the economic and political ties between the United Kingdom and Slovakia.
Among those attending the event were the members of the Presidential Delegation including key Presidential advisers, the Ambassadors to the Court of St James's of the Slovak Republic, the Czech Republic, Austria, Poland, Hungary, Her Majesty's Ambassador to the Slovak Republic, members of both Houses of Parliament including Professor Lord Alton of Liverpool and Lord Brennan of Bibury QC, former Lord Mayor of London Sir Gavyn Arthur, members of Common Council of the City of London, Lady Olga Maitland, British friends of Slovakia and several executives of Anthony Bailey Consulting.
In his speech Anthony Bailey said "With one of the fastest growing economies in the EU, the Slovak Republic is today one of the best performers among the euro area. The reforms undergone in Slovakia have been both enormous and far-reaching with the country counting impressive achievements in innovation, technology and engineering."
"Today is an opportunity to celebrate the new partnerships continually being forged between our two countries. Partnerships, which are based on a realisation of the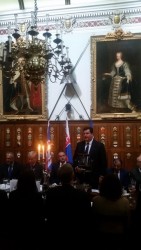 economic and political advantages, which we both can enjoy through working ever more closely together. I know that the City of London is ever ready to play its part too."
The President was received on arrival by a Guard of Honour attended by the Company of Pikemen and Musketeers, which is a ceremonial unit of the Honourable Artillery Company, one of the oldest regiments in the world.
Shortly before the lunch President Kiska received the historic Freedom of the City of London having been nominated by  Sir Gavyn Arthur and Anthony Bailey, and elected by a unanimous vote of the Common Council of the City of London. The beautifully inscribed Freedom certificate was presented to Mr Kiska by the Clerk to the Chamberlain's Court, Mr Murray Craig.
Both events were part of a wider two-day Visit of the Slovakian Head of State to London, which included an Audience with HRH The Prince of Wales at Windsor Castle and a meeting with the Lord Mayor of the City of London, Alderman Alan Yarrow at Mansion House.
Mr Kiska was elected as President of the Slovak Republic in 2014 and Slovakia will assume the Presidency of the Council of the European Union during the second half of 2016.
To read Anthony Bailey's speech in full please  click here.