Anthony Bailey officially visits St Christopher and Nevis
Basseterre, June 2015. HE Anthony Bailey, OBE, in his capacity of Magistral Delegate for Inter-Religious Relations and Delegate for the Caribbean of the Sacred Military Constantinian Order of St George visited St Christopher (St Kitts) and Nevis between 13-15 June 2015 at the invitation of the Government.
During the visit His Excellency Mr S.W. Tapley Seaton, Acting Governor General of St Christopher and Nevis received Anthony Bailey at the Government House in Basseterre. Further meetings were held with Dr The Honourable Timothy S. Harris, Prime Minister of St Christopher and Nevis and the Honourable Shawn K. Richards, Deputy Prime Minister and Minister of Education, Youth, Sport and Culture.
Anthony introduced to the country's highest institutions the Constantinian Order's regional and international spiritual, humanitarian, hospitaller and charitable activities. Talks were held on the needs for charitable, educational, inter-religious understanding and national patrimonial, conservation and revitalisation in this twin-island Caribbean state.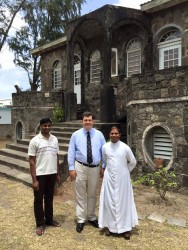 Anthony attended Sunday Mass celebrated by The Reverend Father Manuel Antao at the Co-Cathedral of Immaculate Conception in Basseterre on 14 June 2015. During the Mass the Delegate addressed the congregation in attendance and introduced the Constantinian Order and its activities to hundreds of worshippers.
Later Anthony was accompanied by Father Manuel Antao to visit the historic Sacred Heart Catholic Church in Sandy Point and to a tour around the beautiful island of St Christopher.
The visit proved to be an excellent opportunity to better identify some significant themes of cooperation in St Christopher and Nevis in the near future.