Anthony Bailey attends State Funeral of former Dominican Head of State
Roseau, June 2015. HE Anthony Bailey, in his capacity of Delegate for the Caribbean of the Sacred Military Constantinian Order of St George, attended the State Funeral of HE Dr Nicholas Liverpool, former President of the Commonwealth of Dominica on Friday 19 June 2015.
The Solemn Mass was celebrated by The Most Rev Gabriel Malzaire, Bishop of Roseau and in the presence of HE Cardinal Kelvin Felix at Grand Bay Catholic Church in Dominica. Among the thousands of national and international mourners were HE The Hon Charles Angelo Savarin, President of Dominica and The Hon Roosevelt Skerrit, Prime Minister of Dominica, members of the Government, as well as the Governors General of Antigua and Barbuda, St Vincent and the Grenadines and Saint Kitts and Nevis, the Prime Minister of St Lucia, and the Secretary-General of the Caribbean Community (CARICOM) Ambassador Irwin LaRocque.
Alderman The Rt Hon Baroness Scotland of Asthal, QC, Vice Delegate for England of the Sacred Military Constantinian Order of St George, was also in attendance being herself a daughter of Dominica and a good friend of the late President Liverpool.
Dr Liverpool served as President of Dominica between 2003-2012 and was granted the Dominica Award of Honour by a grateful nation. Before that, His Excellency had a distinguished career as a jurist across the region serving as a Judge of the High Court in Antigua and Barbuda and Montserrat and an Appeal Court judge in Grenada, Belize and The Bahamas; he had also served on a number of tribunals and commissions for legal reform, as well as being Dominican Ambassador to the United States of America.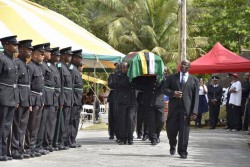 Dr Liverpool had many links with the United Kingdom: he received his law degree from the University of Hull and received his doctorate from the University of Sheffield.
President Liverpool was invested into the Constantinian Order as a Knight Grand Cross with Gold Star in 2012 in recognition of his contribution to faith, justice and public service on the occasion of the Faith-In-Sport ceremony, which was held in London by the British and Irish Delegation of the Constantinian Order in celebration of the 2012 London Olympic Games.
In 2014, Dr Liverpool was appointed Vice-Delegate for Dominica of the Sacred Military Constantinian Order of St George. Together with Baroness Scotland he championed the charitable engagement of the Order in Dominica.
After the Funeral, Anthony visited together with Vice-Delegate Baroness Scotland the various Order charitable projects now underway in Dominica and funded by the Constantinian Order.