Montenegrin Special Envoy Anthony Bailey visits Oman
Muscat, June 2015. As Special Envoy and Ambassador-at-Large of HE The President of Montenegro to the Middle East and North Africa, Anthony Bailey visited the Sultanate of Oman from 22 May to 1 June 2015.
Anthony extended through the high Omani officials with whom he met the cordial and warm greetings of the Montenegrin Head of State HE Filip Vujanović to HM Sultan Qaboos bin Said Al Said.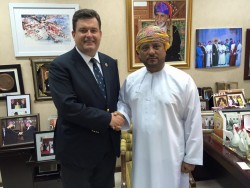 SAnthony had informative discussions concerning areas of mutual interest between Montenegro and Oman during the bilateral meetings held with HE Sheikh Ahmed Yousuf Al-Harthy, Under Secretary for Diplomatic Affairs at the Foreign Ministry of Oman, His Highness Ambassador Al Sayyid Mohammed bin Salem Ali Al-Said of Oman, Chief of Protocol and HE Ambassador Dr Said Nasser Al-Sinawi Al-Harty, Head of the East European Department at the Foreign Ministry.
Anthony also held further meetings with Dr Ali Saud Al-Bemani, Vice Chancellor of the Sultan Qaboos University, cultural centre, library and archives and Her Highness Sayyida Muna Bint Fahad Bin Mahmoud Al Said of Oman, Assistant Vice Chancellor for External Cooperation of the Sultan Qaboos University.