Anthony Bailey launches charitable programmes in Grenada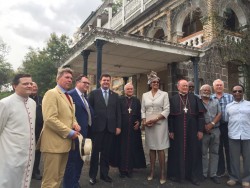 St George's, June 2015. HE Anthony Bailey, OBE, in his capacity of Magistral Delegate for Inter-Religious Relations and Delegate for the Caribbean of the Sacred Military Constantinian Order of St George, accompanied His Eminence Renato Raffaele Cardinal Martino, Grand Prior of the Constantinian Order on his Official Visit to Grenada which took place between 16-18 June 2015 at the invitation of the country's Prime Minister.
The Apostolic Nuncio of the Holy See to Grenada, HE Archbishop Nicola Girasoli, Msgr Pawel Obiedziński, First Secretary of the Apostolic Nunciature and His Grace The Most Rev Robert Rivas, Metropolitan Archbishop of Castries and Prior of the Order's Caribbean Delegation and The Most Rev Vincent Darius, Bishop of the Diocese of Saint George's were present during the Official Visit.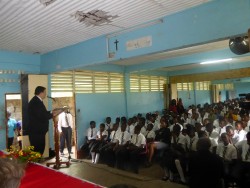 The main purpose of the visit was to launch a multi million dollar charitable programme which included the complete Restoration and Rehabilitation of the Grenada Public Library and National Archives in St George's, the New Life Organisation Project (NEWLO), St Patrick's Roman Catholic School, the Dorothy Hopkin Home for the Disabled, Top Hill Home in Carriacou, Grand Anse Home for the Aged, Grand Anse Girls Centre and other worthy projects identified by state and ecclesiastical authorities in the country.
During the Official Visit, Courtesy Calls were paid on Her Excellency Dame Cecile la Grenade, GCMG, OBE, Governor General of Grenada and the Prime Minister, Dr The Rt Hon Keith Mitchell MP. The Hon Alexandra Otway-Noel, Minister of Implementation, Ms Ruth Rouse, Permanent Secretary in the Prime Minister's Office, and Ms Kisha Alexander Grant, Press Secretary to the Prime Minister also attended.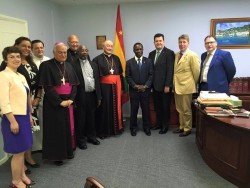 His Eminence Cardinal Martino concelebrated Holy Mass together with HE Archbishop Nicola Girasoli and Archbishop Robert Rivas at the Cathedral of Immaculate Conception in St George's on 17 June 2015. The beautiful and moving Mass was attended by HE The Governor General, senior Cabinet members of the Government, former Governor General of Grenada and Lady Williams and hundreds of worshippers. Cardinal Martino addressed the congregation and thanked all those that had made his visit so successful.
Anthony and the delegation visited also the J.W Fletcher Catholic School and the St David's Catholic School and was warmly welcomed by the Headmasters and teaching staff, local Members of the Parliament and the students and greeted with a lively cultural programme.
A luncheon in honour of the Cardinal Grand Prior and delegation was also hosted by the Bishop of St George's at the Coyaba Hotel. The luncheon was attended by the Governor General, senior officials of the government and members of the clergy.
Anthony visited the ruins of the historic Government House, badly damaged by hurricanes since 2004 and the Grenada Public Library in St George's which is closed to the public due to significant deterioration of the building and whose rehabilitation and reopening will be funded by the Constantinian Order.