Anthony Bailey appointed to Grenada Government House Restoration Committee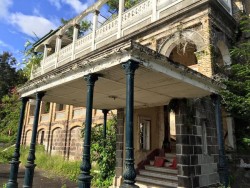 St George's, April 2015. At the invitation of HE Dr Cecile La Grenade, GCMG, OBE, Governor General of Grenada, Anthony Bailey has been appointed a member of the Government House Restoration Committee of Grenada.
Government House has been the official residence of the British-appointed Governors since 1785, and Governor Generals since the independence of Grenada in 1974. The Governor General, HE Dr Cecile La Grenade, chairs the Committee.
Government House was destroyed during Hurricane Ivan in 2004 and currently requires extensive rebuilding and renovation work. Anthony accompanied the Governor General and the former Governor General Sir Danny Williams to the abandoned site during his latest visit to Grenada in January 2015.
For more information on the Government of Grenada, please click here.